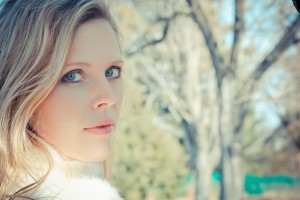 Angie Shaw Pryor began studying piano at the age of four and began composing when she was only six. Later, she continued music studies at the University of Kentucky, Belmont University in Nashville, TN and the University of Louisville. "Writing music is, for me, a way to express my emotions, feelings, and longings," Angie says. "It is a language in and of itself."
Hearing Winter is a compilation of pieces Angie has written over the years along with a few arrangements of other's work.
"Hero", "Eternity Calling", "Forever Green" and "Entwined" were written for family weddings, including her's and her husband's. Love is an eternal concept that I believe God puts in our hearts," Angie says. "It is only fitting that the most beautiful music stems from love. Weddings are a perfect place to express this sentiment."
Some of the music in Hearing Winter has holiday overtones, so the title is appropriate for the winter season, especially for Christmas time. Composing music that features hints of familiar tunes is one of Angie's strengths. "I appreciate ancient melodies that resonate with people but I like to add a modern twist." Both "Comfort and Joy" and "Silent Night Lullaby" are built on this concept. "Old meeting new….. Isn't this what helps bring the past to the present?" she says.
Angie currently resides outside Louisville, KY with her husband and two children, and she serves on the worship team at her home church. She enjoys assisting with fundraising efforts for pregnancy help centers via her music — music that helps bring hope, healing, and life to those affected by an unplanned pregnancy. "After all, the whole Christmas story begins with Mary discovering she's going to have a baby soon, something she didn't plan," she points out. "It is my desire that this music will encourage and comfort those in need of direction and grace at a confusing and difficult time."
Please note: Part of the mission of the Hearing Winter project is to help encourage women during difficult times. Angie is setting aside 10% of the proceeds from the sale of each CD for assisting pregnancy help centers in the Greater Louisville area.
Hearing Winter makes a great Christmas gift. Discounts are available when buying multiple copies. Here's how you can order.